Enrollment
National Provider Enrollment (NPE)
Looking to become a DME Medicare supplier or are you a DME Medicare supplier who needs to make an update to your enrollment file?
Effective Nov. 7, 2022, two new contractors will process all DMEPOS enrollment applications:
Novitas Solutions NPE East: Alabama, Connecticut, Delaware, Florida, Georgia, Illinois, Indiana, Kentucky, Maine, Maryland, Massachusetts, Michigan, Mississippi, New Hampshire, New Jersey, New York, North Carolina, Ohio, Pennsylvania, Rhode Island, South Carolina, Tennessee, Vermont, Virginia, West Virginia, Wisconsin, District of Columbia, Puerto Rico, US Virgin Islands
To find more help on utilizing this new contractor's website, please visit the "help" tab.
Palmetto GBA NPE West: Alaska, Arizona, Arkansas, California, Colorado, Hawaii, Idaho, Iowa, Kansas, Louisiana, Minnesota, Missouri, Montana, Nebraska, Nevada, New Mexico, North Dakota, Oklahoma, Oregon, South Dakota, Texas, Utah, Washington, Wyoming, American Samoa, Guam, Northern Mariana Islands
These two new contractors are responsible for issuing or revoking Medicare supplier billing privileges for suppliers of DMEPOS. Once the requirements have been met to become a DMEPOS supplier a Provider Transaction Access Number (PTAN) is issued to the supplier for billing privileges. The PTAN is sometimes referred to as the NSC number. Read articles; access learning & educational information; view resources and contact details; and learn about Supplier enrollment related processes, rules, and regulations including supplier standards on the Palmetto GBA NPE WEST website.
Surety Bond
Suppliers seeking to enroll or changing the ownership of a DMEPOS supplier must submit a $50,000 surety bond for each assigned National Provider Identifier (NPI) for which the DMEPOS supplier is seeking to obtain Medicare billing privileges. Please see the surety bond page for more information.
CMS-855S application
The Provider Enrollment, Chain, and Ownership System (PECOS) is the best option to complete and submit your enrollment applications. PECOS supports the Medicare supplier enrollment process by allowing registered users to securely submit and manage Medicare enrollment information online.
Appeals & Rebuttals
Palmetto GBA will continue processing all provider enrollment appeals and rebuttals for DMEPOS suppliers through 07/06/2023. Send them to:
National Supplier Clearinghouse
PO Box 100142
Attn: Hearings and Appeals
Columbia, SC 29202-3142
You can also email them to NSC.Appeals@palmettogba.com.
Contact Palmetto GBA at NSC.Appeals@palmettogba.com or 866-238-9652 if you have questions.
Participating vs non-Participating
Electronic Funds Transfer (EFT)
Want Medicare payments directly deposited into your bank account? Application assistance and hints are included below, and suppliers can view information on the NPE West website. The EFT Authorization Agreement CMS-588 form contains instructions for completing the agreement for Electronic Funds Transfers whether you are a new supplier, adding a location or an existing supplier who wants to sign up for EFT.
How to Enroll in EFT
The National Provider Enrollment (NPE) contractors process all Medicare applications for DMEPOS suppliers. Per 42 CFR 424.510(e)(1), providers and suppliers are required to receive electronic funds transfer (EFT) at the time of enrollment, revalidation, change of DME MAC Medicare contractors or submission of an enrollment change request; and (2) submit the EFT Authorization Agreement CMS-588 form to receive Medicare payment via electronic funds transfer
If you have not yet signed up for EFT, take advantage of all the benefits.
Download the CMS 588 form from the CMS website
Follow the instructions for completing the EFT authorization agreement included on the form
Mail the form to the DME MAC Medicare contractor that services your geographical area

An EFT authorization form must be submitted for each DME MAC Medicare contractor to whom you submit claims for Medicare payment
Jurisdiction D Mailing Addresses
Application assistance and hints for EFT
EFT is a process whereby a supplier's Medicare payments are directly deposited into their bank account. It is safe and results in faster payment. Direct deposits also eliminate the possibility of lost or delayed checks and reduces probability of human error.
To change accounts or banks, suppliers must complete a new CMS 588 form, using the new account information and include a voided check or deposit ticket from the new account
If a supplier closes their bank EFT account, Noridian will place them on payment withhold until a new EFT agreement is submitted and approved. If such an agreement is not submitted within 90 days after Noridian (we) learns that the account was closed, revocation procedures will commence.
To be sure it gets submitted to the appropriate address, access the state specific addresses on the Mailing Addresses webpage.
Suppliers can expect to see payments in the bank within 60 days of Noridian receiving the EFT application. If required information is not sent in, the EFT request will not be processed and will be followed by a denial letter.
Incomplete or inaccurate information on an application can delay processing time. The EFT application can be rejected for many reasons. View common processing errors below.
Routing number and account number from check to EFT form not matching
Voided check/bank letter missing from EFT application
Signature not valid (date signed is beyond six months from today's date)
Check must be bank generated. Starter checks are not accepted. If no check, supplier may request a bank letter.
Voided check must include:

Name on account. Name must be full legal name/ legal business name
Routing number
Account number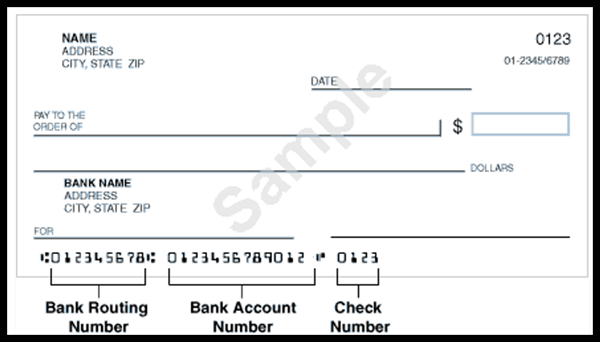 Bank letter must be submitted on bank letterhead and must include:

Routing number on account including leading zeros
Account number on account including leading zeros
Type of Account - checking or savings
Full legal business name must be account name and must be indicated on letter
Bank officer's name and signature is required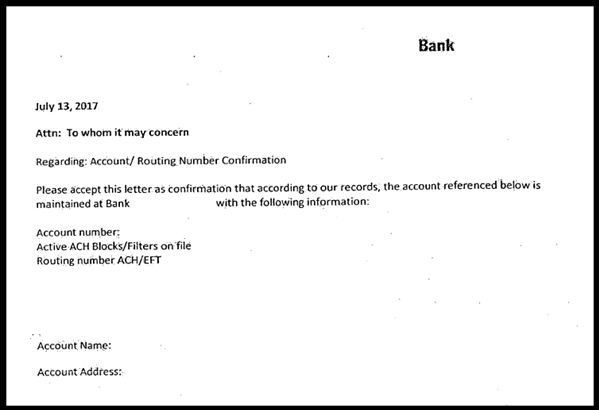 Contact the Noridian Supplier Contact Center with EFT form related questions.
Enrolling for EFT does not change how suppliers receive their Remittance Advices (RAs).
Last Updated Tue, 21 Mar 2023 18:20:48 +0000