Addendum A and B Instructions
Facilities paid under OPPS utilize Addendum A and B to determine payments.
Addendum A and B are posted quarterly to the OPPS website. Information will include Healthcare Common Procedure Coding System (HCPCS) codes and their status indicators, Ambulatory Payment Classifications (APC) groups, and OPPS payment rates, which are in effect at the beginning of each quarter. The quarterly updates of the Addendum's reflect the OPPS Pricer changes that are part of the quarterly OPPS recurring update notification transmittals from CMS.
Note: APC information can be viewed in Addendum A.
Using Addendum B
Addendum B has nine separate columns, which is indicated below:

Column A lists the HCPCS codes paid under OPPS in numerical order, including codes that have been discontinued for the year. Column B lists a short description of the HCPCS code listed in Column A. The OPPS payment status indicators (SI) can be found in Column C.
Column D lists the APC associated with the HCPCS code listed in column A, if the HCPCS code is paid under a separate APC payment. If the HCPCS code is paid on an APC, Column E will list the Relative Weight of the APC and Column F will list the Payment Rate of the APC. Column G will list the National Unadjusted Copayment if applicable and Column H will list the Minimum Unadjusted Copayment if applicable.
Finally, Column I indicates if a change has been made to any cell in the specific row. This will be indicated by the symbol *.
Providers that have access to Direct Data Entry (DDE) can view the status indicator, APC, or payment rate (if applicable) for an APC for a specific line on a claim after a claim is selected. Once the claim is selected type 02 in the CLAIM PAGE field and press F11 once. The status indicator will be located under the OCE FLAGS field number 1. The APC is located in the PAY/HCPC APC CD field, and the payment rate is located in the PRICER AMT field. This is indicated below in the screen image of Page 2 in DDE.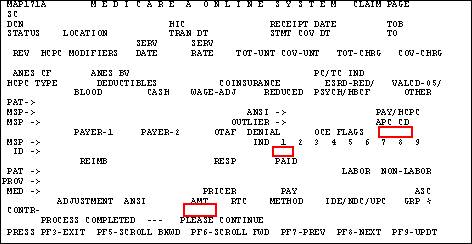 Last Updated Fri, 13 Aug 2021 13:32:27 +0000