Contractors
Follow standard appeals process and submit request to Noridian.
Empower AI, Inc. - CERT Review Contractor
Address:
CERT Documentation Center
8701 Park Central Drive, Suite 400-A
Richmond, VA 23227
Fax: 804-261-8100
Phone: 888-779-7477
Email:
CertMail@empower.ai
CertProvider@empower.ai
CMS CERT Team
Address:
Mail Stop C3-02-16
7500 Security Blvd
Baltimore, MD 21244
CERT Requests, Response, Communication and Actions
Access the below information from this page.
CMS has a contract with Empower AI, Inc. to perform random audits of chart notes and medical reports to verify the accuracy of claims payment. If you are a provider who receives a request from Empower AI, Inc. (CERT Review Contractor) to eliminate additional letter requests and follow-up calls, it is important to supply the requested information/documentation as soon as possible. These requests for records do not pose any Health Insurance Portability and Accountability Act (HIPAA) vulnerabilities. Beneficiary authorization is not needed to release information because authorization has already been given to release necessary medical information in order to process the claim.
MACs are responsible for adjudicating claims based on CERT reviews and educating providers on the findings and top trends identified. We accomplish this by assisting Empower AI, Inc. with obtaining records, contacting providers with CERT review findings, and offer education to the affected providers.
CERT Requests, Timeline and Noridian Communication
Below are the requests sent by the Empower AI, Inc. as well as the various provider contacts made by Noridian. Other informational and educational letters may be sent by the MAC periodically.
Request
Days to Respond
Contact/Response Timeframe
Noridian Communication with Providers
Initial Record Request
45

Day 0: Contact and/or send letter 1 via fax or mail

Day 30: Contact and/or send letter 2 via fax or mail

Day 45: Contact and/or send letter 3 via fax or mail

Day 60: Contact and/or send letter 4 certified

Day 76: If no records were received, full claim error assigned

Non-Responder Contact - Providers must submit initial medical records to CERT within 45 days of receipt of initial record request. If a provider has not responded to initial records request by day 35, Noridian will contact the provider
Tech Stops and Medical Review Specialist (MRS) (i.e. Requests for Additional Document [RAD])
15

Day 0–2: Contact and send letter 1 via fax or mail

Day 10–15: Contact and send letter via fax or mail, if requested

Day 16: Claim placed back into review process

Tech-Stop/MRS Contact - The CERT Contractor initiates a tech-stop/MRS when they have received the initial set of documentation; however, upon review, determined that key elements were missing. A RAD is not a duplicate request for documentation. Do not disregard this request as the review has been placed on hold until the provider provides the additional documentation. Providers have only 15 days to comply with CERT tech-stop/MRS request. If a provider has not responded to request by day 7, Noridian will contact the provider (phone call and/or letter)

It is important providers comply and respond to these letters promptly. View Sample Request Letters on the CERT Provider Portal.

Notification of Findings
N/A
N/A
Facility Error Findings Letter - Providers who receive a CERT error will also receive a Facility Error Findings letter explaining CERT error review findings and provider corrective action options available. The letter should be used to educate all provider staff members associated with the CERT program (e.g. billers, compliance officers, medical records etc.)
See the Provider Mailing Addresses and Points of Contact for CERT Requests webpage to learn more about the below.
Update Primary Practice and/or Correspondence Address in PECOS
Add an Alternate Address for Subsequent Request Correspondence
Create a Point of Contact (POC) with Empower AI, Inc. and/or with Noridian
Respond to a CERT ADR Letter
Invalid or insufficient documentation will result in a denial or reduction of the claim payment so it is best to submit all information which supports the services rendered. Noridian has created multiple Documentation Requirements checklists which may assist providers in compiling the documentation needed.
When replying to the request, photocopy each record (Medicare does not reimburse for copying medical records). All copies must be complete, legible and contain both sides of each page including the page edges. The Claim Identification Number (CID#) identifies specific requests. Fax is the preferred method for submission.
Empower AI, Inc. - Receives and reviews submitted CERT documentation
CMS CERT Team - Governs all CERT efforts
Provider Corrective Actions
Options include:
Act fast (don't miss opportunity to submit initial or additional records to CERT)
Internal education
Implementation or improvement to internal controls or intake process
Submission of additional documentation to CERT contractor (if before deadline)

We encourage providers to submit his/her additional documentation back to the CERT review contractor when possible. If they receive sufficient supporting documentation, they will reverse their finding and Noridian will process the claim for payment based on the final CERT outcome.

Submission of appeal - A request must be submitted within the 120-day Redetermination timeframe. Timeframe begins on Remittance Advice (RA) date which contains the adjusted/denied CERT claim

If a provider chooses to appeal a CERT decision, it must be submitted shortly after receiving the "Facility Error Findings" letter from Noridian. This letter describes the specific CERT determination, is mailed to the designated CERT POC and its date corresponds closely with the RA date. CERT appeal requests follow the standard Redetermination request process.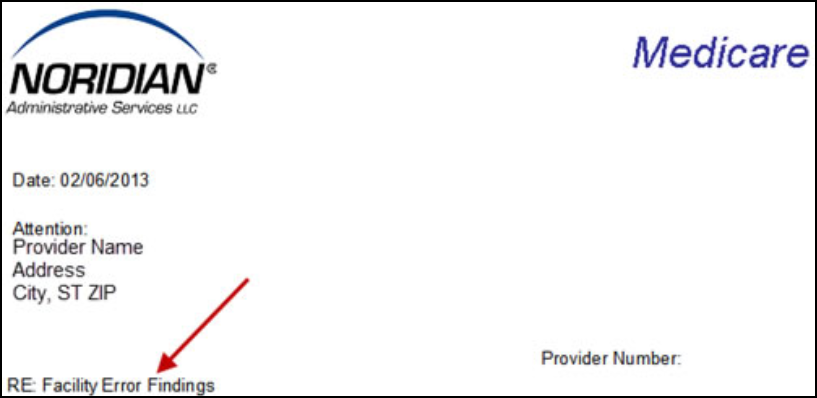 Contact Noridian with CERT Related Inquiries
Last Updated Tue, 18 Apr 2023 16:49:45 +0000